It is hard to believe that the fantastic summer of 2022 has come and gone in a blink of an eye. Now is the time to reflect and reminisce on a summer filled with growth, the building of lifelong friendships, contagious smiles, and challenges. This time of the year is bittersweet; the Ski Hi Lodge is quiet and barren, there are no campers laughing and conversing over games of foosball and ping pong, and the dining room tables are empty and lacking conversations about programs. Although the camp is desolate, the spirit of the Skihitians lives on. The Code of Living and our Blue Kerchiefs are constant reminders of the bountiful memories made here at Cheley.  
We hope that the memories made here, along with the Code of Living, act as a compass and guide when we are not physically present in the beautiful Rockies. One of the greatest aspects of Cheley is not having to be physically here on camp property to feel the spirit that this unique place encompasses. One thing you will hear time and time again around Cheley is: "Great things happen when youth and mountains meet." We believe that there is nothing more true in Ski Hi. We cultivated an environment that promotes flourishing, failing forward, and autonomy. Whether you went on a backcountry backpacking adventure, got your inner artist on during crafts, or partook in an early breakfast (EB) hike to chase noteworthy peaks; Cheley was a place for all.
Words cannot begin to define what this place means to each and every one of us. One of the most alluring aspects of Cheley is that our story and the true meaning of this place differentiate from individual to individual. We all hold Cheley near and dear in our hearts for different reasons, yet we all create a community that allows every individual to flourish where they see fit.
This summer Ski Hi campers had the opportunity to sign up for programs they wanted to experience, master, and grow in. Our free choice signups allowed campers to pick the programs they felt drawn to. Many campers decided to run for the trails and spend time exploring Rocky Mountain National Park and the surrounding National Forests. Our hiking counselors Sam Six and Luke Adams lead day-long expeditions on the back trails of the Rockies. Hikers proved their grit by using their legs of steel to propel them to areas so beautiful, yet only accessible by foot. Here campers learned ways to navigate using only a map, how to properly scramble on the tundra, and how to glissade down a snow field. Early Breakfast (EB) hikes allowed campers to tackle some of the tallest peaks and views in the park. Waking up between 2:00-3:00 am to conquer Longs Peak, Chiefs Head, and CC&Y was well worth the sacrificed sleep for the unforgettable memories. These campers earned their Hiking patch: Wills Christensen, Schuler Hurst, Beckett Kid, Joseph Koppman, Walker Miley, Nicholas Sailer, Tommy Sanders, Shaw Brown, and Mack St. Clair. These campers earned their Pinecone patch: Dylan Rudge, Dylan Roberston, and Christian Carbonaro. These campers earned their On the Trail patch: Otis Danielson, Charlie Eggan, Bowden Katzman-Freimer, Beckett Kidd, Mason Nichols, Bryant Pierce, Nicholas Sailer, Dylan Rudge, Julian Babbit, Shaw Brown, Crosby Deutsch, David Fair, Holden Fischer, Calvin Frost, Wesley Gonzales, Cooper Megown, Ash Montgomery, Wesley Nichols, Daschel Nordlander, Henry Reis, Justin Schwartzreich, Roark Shutts, Cameron Six, Mack St. Clair, John Trueblood, Dashiell Willinger, and Owen Woosley. 
To more fully enjoy the beauty of local nature, Sam Holder and Josh Mahalek led Ski Hi campers in several overnight outcamps. Filled with games such as gaga ball, mock game shows, and a variety of card games, campers always returned from outcamps with smiles on their face and bonded as a group. At campsites such as Rockstock and the Grounds, campers would test their hand at cooking as they prepare their own food, some of the signature dishes being King Ranch Chicken and pita pizzas. Lenox Finkelstein, Wyatt Johnston, Caleb Pirok, and Ash Montgomery, Oliver Nelson, Daschel Nordlander, Henry Reis worked hard during their time here and earned their Outcamping patch.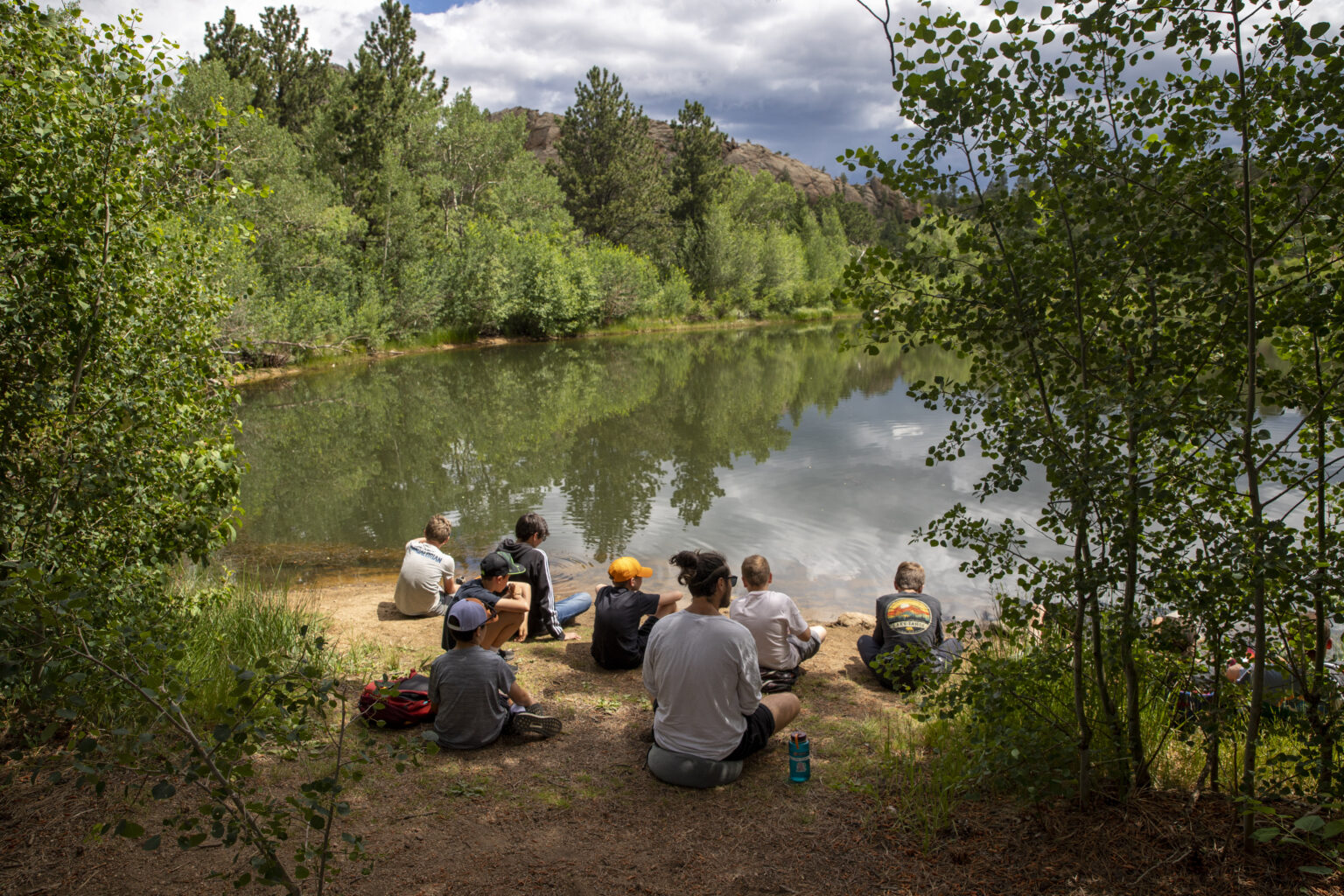 Campers expressed their creativity through many different crafts this summer led by the marvelous Jack Madden. They captured the beauty around them with acrylic and watercolor painting, formed characters out of clay, and designed custom shirts with tie dye. Campers also explored our woodworking shop where they designed and created whatever their imagination came up with. It is quite amazing what the campers created with just an idea and dedication to seeing a project to completion.
The horseback riding program excelled this summer thanks to the fantastic wranglers, Harry Miller and Keegan Lewis. Campers mastered how to control and respect horses both in Western and English saddles as they spent time in the riding rings here at camp. Throughout the summer, campers ventured out on their horses to beautiful destinations such as Strawberry Hill, Gypsy Ground, Aspen Brook, and Twin Sisters. They also had several overnight rides at the peaceful Pierson Meadows. The Riding patch represents proficiency on horses and extensive knowledge of them. These campers earned their Riding patch: Charlie Hughes, Court Morency, Julian Babbit, Jose Bours, Caden Jones, Emmet Lynch, and Axel Solander.
Whether it was at the dome, the Ski Hi basketball court, or the Chapel court everyone around camp could hear when the Ski Hi winning bucket was made and the knockout winner was crowned victorious. Filled with laughter and healthy competition, the sports program headed by Jack Olson and Dillon Yother led campers to hone their gaga ball, ping pong, and archery skills. Campers also relaxed by the pond catching rainbow trout while listening to country music, some even got to enjoy their catch at the dinner table. William Schnieders, the riflery counselor, led Ski Hi to victory twice at the Chiptea v. Ski Hi shootout and helped countless campers with their prone, kneeling, and standing patches. Throughout the summer, campers honed their skills and learned to be patient, smooth, and precise. 
Campers were able to escape the hustle and bustle of camp by running to the mountains to rough it out with what only they could carry on their backs. Harry Robison and Matthew Adams helped campers unplug and leave civilization in order to find inner peace out in the wilderness. From the Never Summers to the Indian Peaks, the backpackers searched far and wide for solitude and the meaning of life. We all gained a deeper appreciation for the outdoors and each other because of the backpackers' commitment to living in the moment and embracing the experiences that came their way. Mack St. Clair earned his Backpacking patch and showed extensive knowledge of the backcountry and proficiency in the program. 
This year, we added meditation and mindfulness instruction to our unit's programming, as well as a deeper level of conscious living, led by one of our Assistant Directors, Jonathan "Quiggy" Quigg. Meditation was incorporated into various programs as a way to help campers settle into the right mindset. During crafts, it helped them get in touch with their creativity and their hands. Before archery, it relaxed their focus, so that they could better hit their targets. In preparation for some of the more intimate campfires, it grounded them and opened their hearts and minds. At an age when things are changing constantly, emotions and impulses are skyrocketing, it was a simple, invaluable practice to help campers slow down and really appreciate their camp experience more fully. We hope that campers will bring home the inspiration to meditate and that families will help them incorporate it into their lives back at home.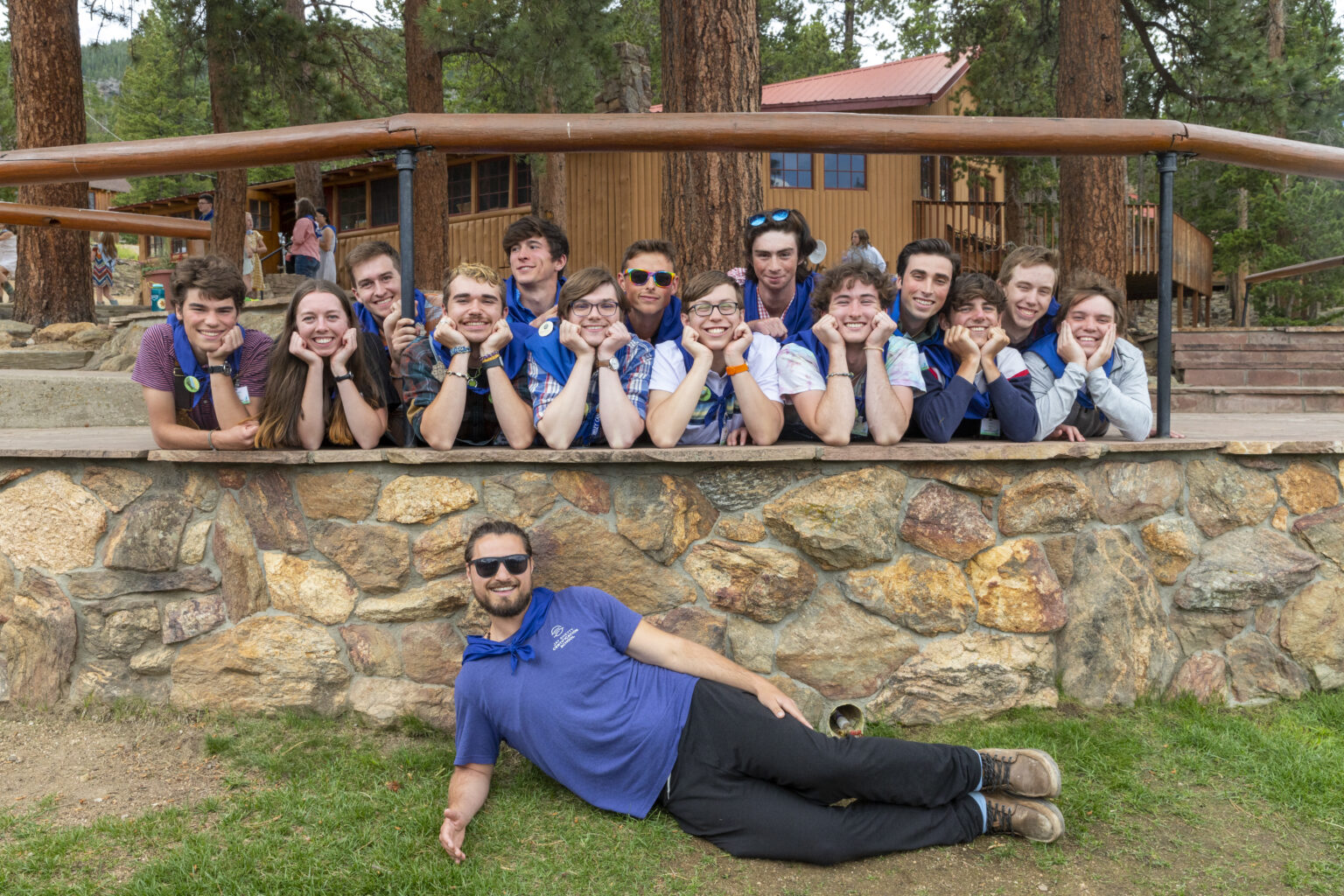 Unique to every unit, the Code of Living is penned by campers at the beginning of camp during campfire (led by Jefferson Ratliff) and represents values the campers wish to live by during the term. At the end of the term, campers and counselors vote on the campers who best exemplified the code's ideals and receive the Silver Spurs. This recognition is something that campers can actively strive for at any point in their life. Living up to the Code of Living does not end once the term is over. The Silver Spurs are more than just a physical memento, they are a representation of the growth that was achieved and the challenges tackled. First Term recipients were: Charlie Hughes, Bryant Pierce, Zachary Siegal, and Quincy Sweet. Second Term recipients were: Crosby Deutsch, Holden Fischer, Alejandro Harris, Meyer Harwood, JB Seale, Axel Solander, and Mack St. Clair. 
A new summer full of memories is just beyond the horizon. Like most, it can't come quick enough. The rekindling of friendships, nights spent building a close-knit community in the Ski Hi Lodge and exploring the Rockies are closer than we think. Let us use the Code of Living as a compass to guide us while we physically aren't at Cheley. We wish every member of Ski Hi the best in their future year and endeavors.  
Until We Meet Again,
Connor Charpentier, Director
Alexa Reeve, Asst. Director
Jonathan Quigg (Quiggy), Asst. Director