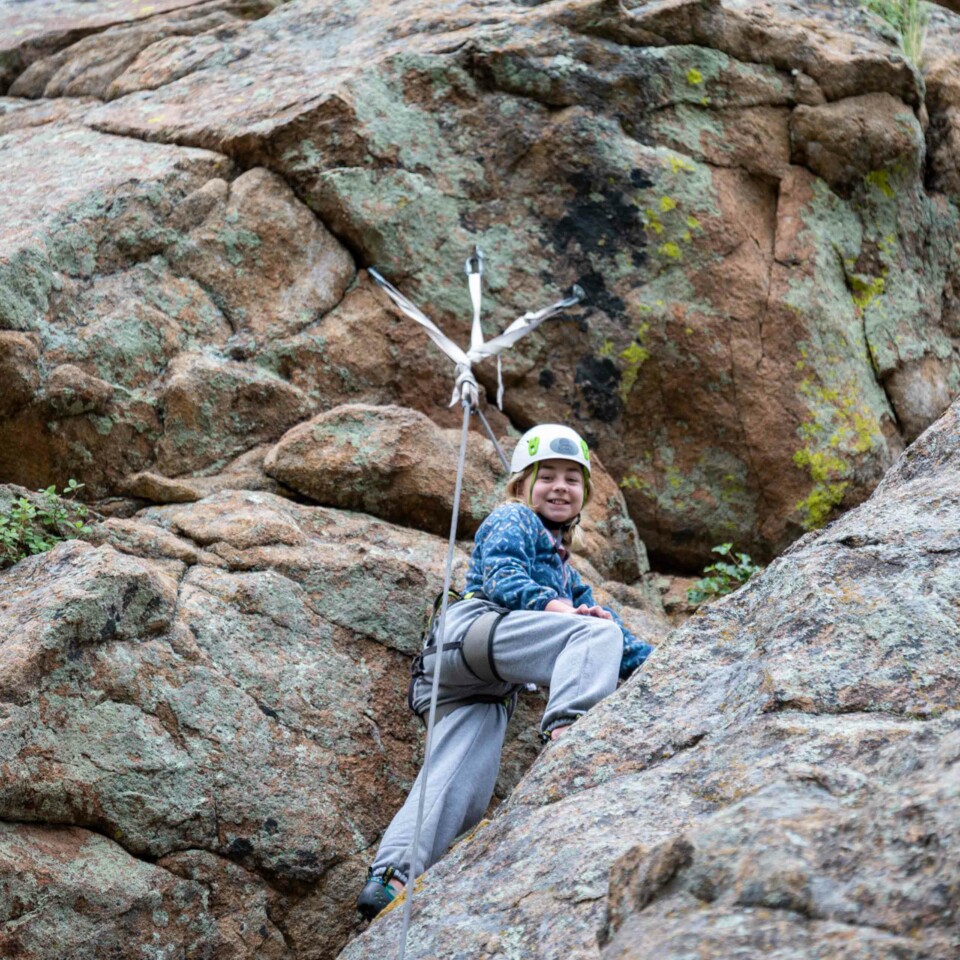 Health & Wellness
At Cheley, we focus on youth development and providing the nurture and care necessary to assist our campers.
Whether it be physical, mental, emotional, or spiritual, camper well-being is one of our priorities. At Cheley, we focus on youth development and providing the nurture and care necessary to assist our campers in their quest for adventure.
An Apple a Day
We have four health centers at camp with a registered nurse on duty and a nurse aide and have policies in place to help mitigate the risk of illness. These include measures to limit the spread of communicable diseases, such as the flu, Covid-19, respiratory syncytial virus (RSV), and strep throat. Throughout the summer, we encourage handwashing, practice daily cleaning of high-touch surfaces, stress the importance of sleep and hydration, and monitor camper health. We also strongly recommend that your camper is up to date on pediatrician-recommended vaccines. Our Health Professional Team at Land O'Peaks and both TEs are always available to help campers with any scrapes, bruises, or blisters that often occur on adventures in the Rocky Mountains. For most of the summer, we have a volunteer doctor on site or teledoctor on call to accompany our team.
Our Health Professional Team administers medications periodically throughout the day. While most of our campers receive their medications before or after a meal or before bed, our nursing staff will work to accommodate your camper's needs. Our health centers and First Aid Kits are stocked with standard over-the-counter medications, so there is no need to send these items. Counselors have current certifications in Medication Administration (so they too can administer medication out of camp), First Aid, and CPR. Additionally, our out-of-camp counselors (hiking, backpacking, outcamping, horseback riding, and mountain biking) are certified in Wilderness First Aid (WFA). If additional care or treatment is needed, we are also four miles from Estes Park Health (Emergency & Urgent Care).
If your camper has been taken to the doctor/hospital, receives a prescription, spends the night in the health center, or spends two days off activities during the summer due to illness, we will contact you. If your camper requires external medical care, a phone call home will occur the same day unless it is after 10:00 PM in the camper's home time zone, in which case a phone call will occur the following morning.
If your camper requires any special assistance or if there is anything you would like to discuss with our medical staff before or during enrollment, we invite you to contact us.
As part of the enrollment process, you will be asked to complete various wellness forms, including our Medical/Health History, Healthcare Provider, and Immunization Forms. These forms give our Health Professional Team access to a camper's health history, allergies and Epi-Pen use, medications, and treatments, and more.
Mental, Emotional, and Social Health
We care deeply about the mental well-being of our campers and take pride in caring for them in a nurturing manner! While being at camp is joyful and therapeutic in nature, Cheley Colorado Camps is not a rehabilitation or recovery program nor is Cheley a treatment center. As such, it is important to have realistic expectations regarding the support we can provide your camper while they are at camp.
We train our staff to help foster social skills, relationships, and personal growth and offer intentional support to campers who need a little extra TLC. Our staff do not have the expertise needed to work with campers who have severe mental, emotional, or social difficulties. Although we do have trained mental health professionals on-site, we do not have a designated social worker, nor provide therapy. To ensure support and continuity of care during your camper's time at camp, we can schedule calls with your camper's mental health provider.
Keep in mind that regardless of the positive and empowering nature of camp, it is an emotionally and physically demanding experience. That said, many campers who experience mild/moderate anxiety, depression, and ADHD/ADD often do well at camp if they have positive coping mechanisms; therefore, we encourage campers to continue their prescribed medication and bring other coping strategies (journal, favorite book, etc.) to camp.
We find that the more honest and detailed you can be with us ahead of time, the better your camper's time at camp will be. As part of the enrollment process, you will be asked to complete various wellness forms, including our Parent Information Form. This form gives our staff insight into your camper's mental health and well-being, and more. Not only does it allow our staff to get to know your camper, but it is invaluable for helping set the stage for a positive camp experience.
Cheley Colorado Camps should never be used as a tool or replacement for mental health care.
Risks and Safety
We take pride in our operation and the professional way in which we have run our programs for over 100 summers. From climbing and horseback riding to rafting, camping, and hiking, participants can experience a rich variety of challenging and educational activities in diverse and spectacular settings. However, with these opportunities — offered in high altitude, mountainous and sometimes wilderness terrain — come certain risks. Camp in general involves inherent and other risks, hazards, and dangers that can provide challenge and excitement, as well as opportunities for learning and personal growth. Inherent risks include those we seek, such as whitewater rafting or challenging terrain, as well as risks we don't necessarily seek, but which exist as parts of the environment, such as unpredictable weather or unexpected terrain. Other risks, not necessarily inherent, may also exist.
As a result, safety is a priority in our programming. As an accredited and licensed summer camp, we endeavor to manage risks, knowing we cannot eliminate risks or assure campers' safety. We strive to provide campers with unique locations and appropriate equipment as they learn new skills and engage in a variety of activities. Our summer camp counselors are diverse and enthusiastic, and, depending on their position, have first-aid training. Importantly, campers and their parents must understand that campers share in the responsibility for their own well-being and the well-being of others here at camp.
Cheley has risk management, emergency, and crisis response plans in place to endeavor to prepare and respond in the event of incidents or events occurring on or off Cheley property. Parents and guardians will be notified within a reasonable length of time after an event, as our priority is the well-being of all campers and staff.
Please review the Acknowledgment and Assumption of Risks & Release and Indemnity Agreement or contact us for additional information about the risks associated with Cheley's activities, and participants' and parents' responsibilities.
Climate and Weather
People love to talk about the weather! At Cheley, it's no different. Most days we're talking about how perfect it is – blue skies and plenty of sun. The sun shines most every day, and while rain varies, typically we have an afternoon rain shower. They don't last long though, but a rain jacket is a must.
At an elevation of 8,200 feet, summer temperatures average high in the 70s with very little humidity and cool evenings, usually 50 to 55ºF. It is best to be prepared for all types of weather
Altitude Sickness
Altitude, like elevation, is the distance above sea level. National Geographic describes "high-altitude" as being at least 2,400 meters (8,000 feet) into the atmosphere. And because Cheley Colorado Camps sits at an elevation of 8,200 feet above sea level, it can be described as a high-altitude summer camp. Although it just barely meets the criteria for high altitude, campers who have never experienced it before may be surprised to experience how it affects them—at least initially.
Most campers don't experience any symptoms of altitude sickness at our elevation; however, it's important to know that there's a chance your camper will experience some mild symptoms during their first few hours at camp, during strenuous activity, or if traveling to very high altitude (above 12,00ft) on a hike, backpack, or other activity. The most common symptoms include headaches, fatigue and loss of energy, shortness of breath, loss of appetite, and sleep problems. The best way to acclimate and combat altitude sickness is to drink enough water, eat regularly, and rest.
Head Lice, Bed Bug Screening, and Tick Protocol
Head Lice: We check all campers for head lice upon their arrival at camp. Over the years, we have found that most cases of head lice are brought to camp from home; therefore, to prevent the chance of lice being brought to camp, begin checking your camper's head for lice a month before your camper's arrival at camp. If you find and treat any lice, you must inform us. If your camper has head lice, we will contact you.
Bed Bug Screening: We check our cabins/wagons for beds bugs. Should any issues arise, we have a plan in place to deal with bed bugs both prior to and during the summer.
Tick Protocol: At Cheley, we do the following to help minimize exposure to ticks:
Train staff in our procedures including identification of ticks, encouraging regular application of bug spray, encouraging campers to wear appropriate clothing when hiking, backpacking, etc.
When campers return from program, counselors help campers do their own tick checks.
When necessary, checks done during the summer by members of our Health Center staff. Our nurses look for signs of bug bites, ticks, rashes, scabs, etc.
Dental & Orthodontic Care
We recommend that campers visit their dentist and orthodontist before coming to camp. Our local orthodontists are not willing to do substantial work or major repairs. If a wire snaps or a similar problem arises during the summer, the orthodontist in Estes Park will do what they can to make sure your camper is comfortable until they return home and see their own orthodontist.
Parents of campers undergoing orthodontic treatment should relay any special instructions to us.
Vaccine Requirements
Campers are not required to be vaccinated for Covid-19; however, we strongly recommend campers are up-to-date on their vaccinations as recommended by their pediatrician (including those for Covid-19 and flu).
Colorado law (Board of Health rule 6 CCR 1009-2) requires all students attending Colorado schools and licensed child cares to be vaccinated against certain diseases, unless an exemption is filed. The minimum number and spacing of doses is set forth in the Advisory Committee on Immunization Practices (ACIP) Child and Adolescent Immunization Schedules. Meeting the initial vaccine requirements does not excuse a student from meeting additional requirements. In addition to the vaccines required for school entry, there are several vaccines recommended by the ACIP that provide protection against other diseases. These include Meningococcal, Hepatitis A, Rotavirus, Human papillomavirus and Influenza.
Below are the vaccines required for students attending Colorado licensed child cares and schools.
Vaccines required to enter child care:
Hepatitis B.
Diphtheria, tetanus, pertussis (DTap).
Haemophilus influenza type b (Hib).
Inactivated poliovirus (IPV).
Pneumococcal conjugate (PCV13) or polysaccharide (PPSV23).
Measles, mumps, rubella (MMR).
Varicella (chicken pox).
Vaccines required to enter school (K-12):
Hepatitis B.
Diphtheria, tetanus, pertussis (DTap).*
Inactivated poliovirus (IPV).*
Measles, mumps, rubella (MMR).*
Varicella (chicken pox). *
Tetanus, diphtheria, pertussis (Tdap).**
*Students 4 through 6 years of age are required to have their final doses of DTaP, IPV, MMR and Varicella prior to kindergarten entry.
**Students are required to have Tdap prior to entry into 6th grade. One dose of Tdap is required for 6th through 12th grades.
If your camper is not fully immunized, you will be asked to upload a copy of the Immunization Exemption Form.