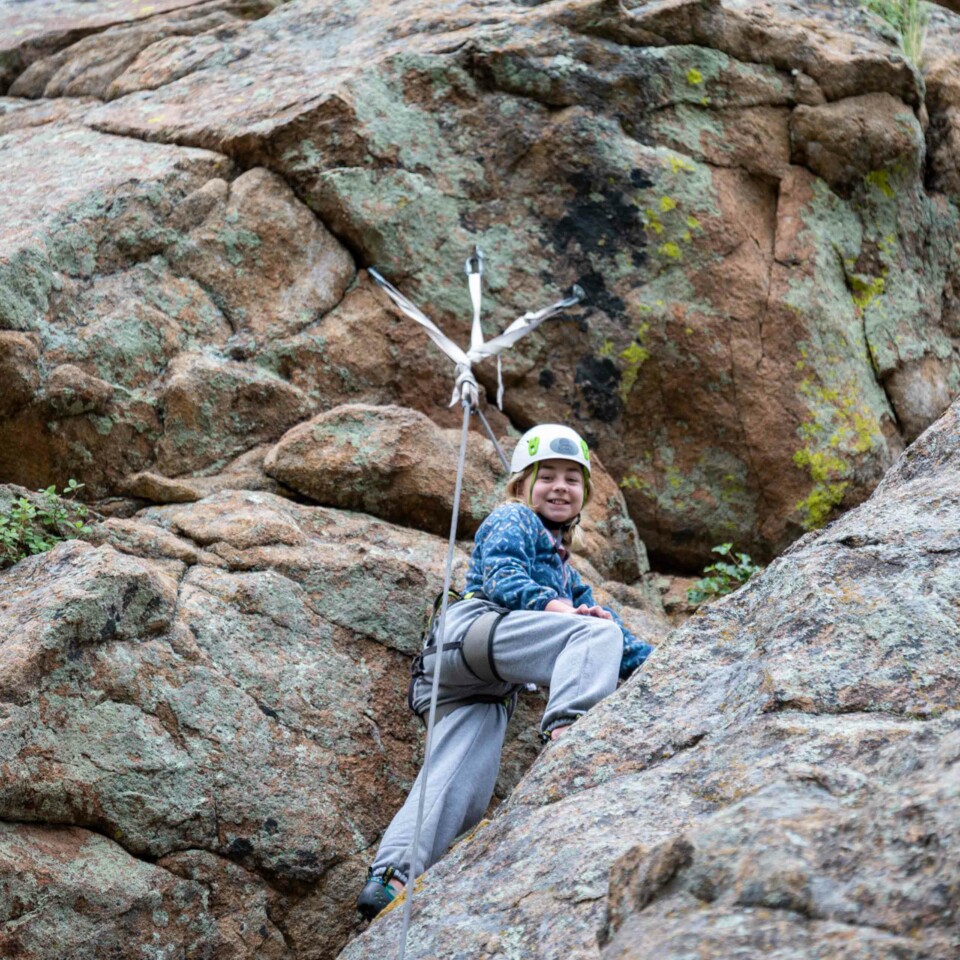 Health & Wellness
At Cheley, we focus on youth development and providing the nurture and care necessary to assist our campers.
Whether it be physical, mental, emotional, or spiritual, camper well-being is one of our priorities. At Cheley, we focus on youth development and providing the nurture and care necessary to assist our campers in their quest for adventure.
An Apple a Day
We have four health centers at camp with a registered nurse on duty and a nurse aide. Our Health Professional Team at Land O'Peaks and both TEs are always available to help campers with any scrapes, bruises, or blisters that often occur on adventures in the Rocky Mountains. For most of the summer, we have a volunteer doctor on site or teledoctor on call to accompany our team.
Our Health Professional Team administers medications periodically throughout the day. While most of our campers receive their medications before or after a meal or before bed, our nursing staff will work to accommodate your camper's needs. Our health centers and First Aid Kits are stocked with standard over-the-counter medications, so there is no need to send these items. Counselors have current certifications in Medication Administration (so they too can administer medication out of camp), First Aid, and CPR. Additionally, our out-of-camp counselors (hiking, backpacking, outcamping, horseback riding, and mountain biking) are certified in Wilderness First Aid (WFA). If additional care or treatment is needed, we are also four miles from Estes Park Health (Emergency & Urgent Care).
If your camper has been taken to the doctor/hospital, receives a prescription, or spends the night in the health center during the summer, you will receive a call from us. In the event of an emergency or if your camper requires external medical care, a phone call home will occur the same day unless it is after 9:00 p.m. in the camper's home time zone, in which case a phone call will occur the following morning.
If your camper requires any special assistance or if there is anything you would like to discuss with our medical staff before or during enrollment, we invite you to designate that on your forms and/or call our office if you have any questions.
As part of the enrollment process, you will be asked to complete various wellness forms, including our Medical/Health History, Healthcare Provider, and Immunization Forms. These forms give our Health Professional Team access to a camper's health history, allergies and Epi-Pen use, medications, and treatments, and more.
Risks and Safety
We take pride in our operation and the professional way in which we have run our programs for over 100 summers. From climbing and horseback riding to rafting, camping, and hiking, participants can experience a rich variety of challenging and educational activities in diverse and spectacular settings. However, with these opportunities — offered in high altitude, mountainous and sometimes wilderness terrain — come certain risks. Camp in general involves inherent and other risks, hazards, and dangers that can provide challenge and excitement, as well as opportunities for learning and personal growth. Inherent risks include those we seek, such as whitewater rafting or challenging terrain, as well as risks we don't necessarily seek, but which exist as parts of the environment, such as unpredictable weather or unexpected terrain. Other risks, not necessarily inherent, may also exist.
As a result, safety is a priority in our programming. As an accredited and licensed summer camp, we endeavor to manage risks, knowing we cannot eliminate risks or assure campers' safety. We strive to provide campers with unique locations and appropriate equipment as they learn new skills and engage in a variety of activities. Our summer camp counselors are diverse and enthusiastic, and, depending on their position, have first-aid training. Importantly, campers and their parents must understand that campers share in the responsibility for their own well-being and the well-being of others here at camp.
Cheley has risk management, emergency, and crisis response plans in place to endeavor to prepare and respond in the event of incidents or events occurring on or off Cheley property. Parents and guardians will be notified within a reasonable length of time after an event, as our priority is the well-being of all campers and staff.
Please review the Acknowledgment and Assumption of Risks & Release and Indemnity Agreement or contact us for additional information about the risks associated with Cheley's activities, and participants' and parents' responsibilities.