Application Info & Key Dates
Are You Ready to Apply for 2024?
While we have a rolling hiring process, be sure to get your application in early, especially if you have specific position preferences. We prioritize applicants who can work the entire summer. Review our dates for 2024 below and on your application, please note your availability.
Reapplication for Returning Staff Open: October 1
Applications for New Staff Open: October 18
Interviews Conducted: Starting November 1
Employment Dates 2024: June 1 to August 11
June 1
Staff Training Begins
June 11
First Term Begins
July 7
First Term Ends
July 8
Midterm
July 9
Second Term Begins
August 4
Second Term Ends
August 5
Midterm
August 6
Quarter B-4, Family Camp, and Teen Summit #1 Begin
August 10
Quarter B-4 Ends
August 11
Family Camp and Teen Summit #1 End
Some positions require additional training, whether it be specialty, program, or certification; therefore, contract dates may extend beyond the above dates and will be discussed in the interview process. Please review those dates below.
| Position | Training Date |
| --- | --- |
| Outcamping Coordinator | May 14 |
| Head Cooks | May 15 |
| CheDOT | May 16 |
| Ropes Course Facilitators | May 20 |
| Horseback Riding Counselors and Barn Crew | May 24 |
| Directors and Assistant Directors | May 28 |
| Hiking, Backpacking, and HBO Counselors | May 28 |
| All Staff Arrival by Staff Training | June 1 |
What We Need
Thoroughly read our website, employment information, and other resources for staff to understand the Cheley Experience and what to expect as a staff member and in each position.
Fill out and complete our online application. Please take time to thoughtfully answer each question and select the appropriate position preference(s) for your age, skills, and interest.
If we decide to move forward with your application, we will contact you via email to schedule a time that works for your interview.



Interviews are scheduled on Zoom, typically from 8 AM – 3 PM Mountain Time, although we sometimes offer in-person interviews for local applicants. The interview isn't just for us to get to know you better, but it's also for you to decide if camp is a good fit for you. Ultimately, we want all our staff to be successful! Prior to your interview, please read the job descriptions for your position choices and prepare any questions. Based on the initial interview, additional interviews may be scheduled.

Provide three (3) references. Send this reference link to three people (non-family members). Applications are not complete until all references are received.
If we have a position available, we will be in touch within two weeks.
If you are offered a position via email and accept that position, you will receive a "Welcome!" email from our Human Resources Manager detailing how to self-on-board through Paycom. After completing this self-onboarding, they will approve your profile. You will be notified when the paperwork items are ready.

Other Information
Certification Requirements and Bonuses
Staff members must obtain required certifications depending on their position prior to the start of Staff Training. While we offer courses (CPR, First Aid, WFA) during Staff Training for a cost, we highly encourage getting it done prior to then. If hired, you will receive a list of ACA-approved certification providers.
Staff members are also eligible to receive bonuses for relevant certifications based on current, nationally recognized certifications and organizations. Certifications earned at Cheley Colorado Camps during Staff Training in 2024 are not eligible for the additional bonus. If you do not complete the work dates as specified in your offer letter, you will not receive any certification bonuses.
Teaching (1-3 Years): $200
Teaching (4-10 Years): $400
WFA: $100
WFR: $200
OEC Ski Patrol: $200
WEMT/EMT: $250
CDL License (CheDOT drivers only): $350
ACCT, CWI, High Ropes Level 1 (Ropes Course Staff only): $200
High Ropes Level 2 (Ropes Course Staff only): $250
If you have other certifications you feel will be valuable to the Cheley Experience, we would be happy to discuss those with you during the interview process.
Staff who are working Quarter B-4/Family Camp/Teen Summit #1 and staying in a cabin will receive a $150 bonus. Staff who are working Teen Summit #2 will receive a $200 bonus.
Benefits
While working, staff members have access to seasonal outdoor "pro-deal" discounts and a discount card, good at a variety of Estes Park establishments. You will also save money during the summer as a result of having few expenses!
Travel
Staff are responsible for their transportation to and from camp. If you have a car, we recommend you drive to camp. If you are flying to camp, we do not provide transportation from Denver International Airport (DEN) except in rare circumstances and for international staff. We recommend utilizing the Estes Park Shuttle, which offers a reliable, daily scheduled shuttle service between Denver International Airport and the Estes Valley area (including drop off directly at Cheley).
If you work the entirety of the days in your offer letter, and are in good standing, you will receive a travel stipend to assist with travel expenses. The amount varies by location and is based on your home address. This is intended to help with some travel expenses and may not cover the full cost. If you do not complete the work dates as specified in your offer letter, you will not receive any travel stipend.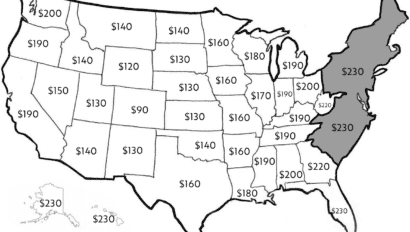 Note: First-year international staff do not receive travel stipend, and we will meet them at the airport. Returning international staff receive a $230 travel stipdend. Staff only working Quarter B-4, Family Camp, or Teen Summit receive a $100 travel stipdend.
Please note that the travel stipend is designed to offset a portion of your travel costs and may not cover the entire expense.
Salary Information
Base salaries are specific to each position and are either a weekly rate or hourly rate. Housing and meals are provided, and staff members are expected to live at camp. We provide bonuses for each additional summer that staff return.
Hourly Staff: Our goal is to provide around 40 hours per week. $200 per week is deducted from hourly staff for room and board.
Being Paid: The pay schedule varies and staff are paid via direct deposit. Typically, paydays are at the end of designated camp periods for those specific staff. For 2024, the paydays are*:
May 25th (Discovery)
May 31st (Discovery, Pre-camp)
June 10th (Staff Training)
July 8th (First Term)
August 5th (Second Term)
August 19th (Quarter B-4/Family Camp/Teen Summit/Burn Camp)
September 2nd (Post-camp)
*Schedule is subject to change, but will be confirmed before the start of the season.
International Staff
Due to J-1 Visa regulations, we are unable to hire internationals directly without the use of a certified visa sponsor agency. These agencies will help you through the rigorous screening process in your home country before interviewing with us. Please contact one of the following visa sponsor agencies who may work in your home country: Camp Counselors USA, Camp Leaders, Camp America, International Exchange of North America, and Wild Packs. Staff should have the ability to communicate conversationally in English.
Returning Staff
On October 1st, the reapplication for returning staff will open. The priority deadline is November 1st for all returning staff to submit their reapplications. December 1st is the priority deadline for Directors and Assistant Directors. We will begin placing (non-leadership) returning staff on November 4th and aim to complete offers to returners by December 15th.
In most cases, returning staff are guaranteed their previous position. If you wish to change units, departments, or programs, we may contact you for a brief interview or we may simply facilitate the change without needing a conversation.
Our base salaries increase annually, and returning staff will receive a designated bonus in addition to this raise. This bonus is based on a returning staff member's number of years at Cheley.
Join our Pre-Camp Crew
If you're interested in working at Cheley before our official staff training begins in the spring, consider joining our Pre-Camp Crew and playing an essential role in preparing our facility for the upcoming summer season! As part of this team, you'll be responsible for various tasks, such as raking, cleaning, landscaping, furniture relocation, and other hands-on manual labor activities, ensuring that our camp environment is in top-notch condition before the season begins. This opportunity not only allows you to be a vital contributor to our pre-camp preparations but also offers a unique chance to connect with fellow staff, fostering a deeper understanding and appreciation of the Cheley Experience.
| Position | Arrival Date | Salary |
| --- | --- | --- |
| Pre-Camp Leaders | May 15 | $80/day |
| Pre-Camp Crew | May 16 | $70/day |
Additional Opportunities for Income and Fun!
In August, as summer winds down, many of our staff members transition back to university/college, embark on study-abroad adventures, pursue new employment opportunities, or engage in other ventures; Nevertheless, a dedicated few choose to remain with us as our programs continue to flourish into the fall and offer exciting opportunities for staff.
Additional Opportunities
Burn Camp
August 10 – August 18
Teen Summit #2
August 12 – August 17
Post-camp Work Crew
Late August (exact dates TBD)
Fall Discovery
August 18 – October 7 (anticipated end date)
Internship Opportunities
Due to the demands placed on you as a Cheley staff member, you will not be able to complete online classes, extra work, or any additional responsibilities outside of the Cheley Experience.
We are happy to provide an internship within the framework of our typical available summer positions. If you are interested in earning internship credits while at camp, please let us know. Internships at camp can provide meaningful work and life skills, such as leadership, problem-solving, teamwork, communication, work ethic, flexibility, and more, as well as professional tools. We can work with your university/college as needed to coordinate this arrangement and fulfill your internship requirements.
Join Our Team
What does it take? A sense of adventure, a desire to be with people, and leadership skills.