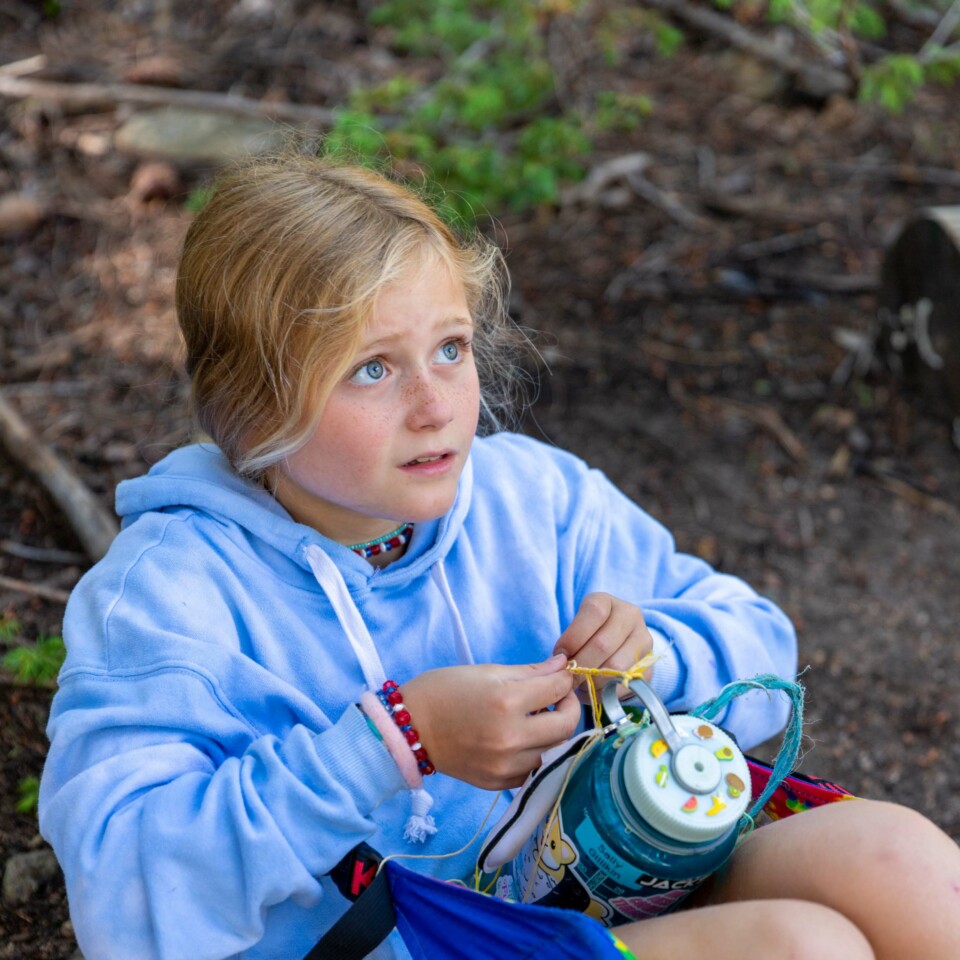 Packing for Camp
Use our packing list to prepare for camp!
Packing can be something you may want to put off until the last minute or it's something you're eager to do. Whether you're helping your child pack weeks in advance or you're packing a few days before camp, it's important to have a packing list so you don't forget the essentials. Below, we have compiled a detailed list of the clothing and equipment for you to pack.
Please remember to not over-pack! Campers do not need more than what's recommended, and storage space is limited. At Land O'Peaks, campers are only allotted two large drawers, a dresser top to be shared with their bunkmate, some hanging space, and a cubby in the bathhouse. Campers may not use the space under their bunks for storage. At Trail's End Ranches, campers are only allotted a large under-bed drawer and under-bed storage area, half of a hanging rack, and a cubby in the bathhouse. Campers may not use the space under their bunks for storage.
Let's Start With Some Packing Tips & Tricks
Print Out and Use Our Packing List!
This seems obvious, but it's fundamental to your packing success. We have specific requirements and have spent time carefully creating a list of appropriate and necessary items for your camper's comfort and our activities. Review our packing lists early to see if there is anything you need to order ahead of time. You will get your camper off to a great start by making sure they have everything they need. Our packing lists also include items NOT to bring to camp. While it is NOT our intent to require families to have to buy unnecessary or expensive equipment and clothing, campers need to be prepared for our climate and many activities. We provide most equipment required for our activities, including internal frame backpacks for backpacking, tents, cooking stoves, all the tack and helmets for horseback riding, and other equipment used in the other activities.
Pick Your Perfect Bag.
Before you start packing, you'll need to identify which type of bag is best for your child. We recommend big duffel bags. They should be big enough to have some extra space after everything is inside because we all know dirty balled-up clothes take more room than clean folded ones. Within the duffel bag, you can invent your own ways to organize things. Large zip-lock bags work well for things like underwear, socks, and toiletries. If you want to go the expensive route, you can buy nylon stuff sacks in lots of different colors and sizes from camping suppliers. We ask that campers do not bring trunks or big plastic tubs as they are hard to move and cannot be kept in cabins/wagons.
All baggage (duffels, suitcases, carry-ons, personal items, backpacks, daypacks) and miscellaneous items, such as fishing poles and guitars, must have yellow Cheley baggage tags on them, which you will receive in the mail in May.
Have Your Camper Do Most of the Work.
When your camper is away, you won't be there to help locate towels, socks, or flip-flops. It's important for youth to feel empowered and responsible for their own belongings before they leave for camp. Learning to keep track of their stuff is one way they can grow from their camp experience. So, whether it's laying out items on the packing list, labeling things, or packing, let your camper lead the way. Even still, you should know what goes in their bags and what stays out.
Don't Bring the Best.
Camp is a great place to wear older, yet durable clothing! Please do not send campers off to camp with their best or most expensive clothes and brand-new shoes. They may not come back in that same condition and often gear needs to be broken in before being used. Don't own "old" clothes? Try going to a used clothing store, a garage sale, or a local thrift shop. If needed, good sources for camp clothing and gear include REI (Outlet)®, Dick's Sporting Goods®, LL BeanTM, Patagonia (Worn Wear)®, Backcountry®, Moosejaw®, Eastern Mountain SportsTM, Sierra®, Slim Pickins Outfitters, and other outdoor stores.
Additional Information
Dress Code Philosophy
During your summer at Cheley Colorado Camps, we want you to have the best experience possible! By planning ahead and packing appropriately, you will be contributing to a positive Cheley Experience; therefore, our dress code reflects practicality and the values of camp. It is written in a manner that does not reinforce or increase marginalization or oppression of any group based on race, sex, gender identity, gender expression, sexual orientation, ethnicity, religion, cultural observance, household income, or body type/size and shall be enforced consistently.
All campers and staff should be able to dress comfortably for camp and engage in the camp environment without fear of or actual unnecessary discipline or body shaming
All campers and staff should understand that they are responsible for managing their own appearance without regulating another individual's clothing/self-expression.
All campers and staff should be able to use body-positive language.
We expect all campers, staff, and visitors will dress in a way that is appropriate for camp. Dress choices should respect Cheley's intent to sustain a community that is inclusive of a diverse range of identities. We are responsible for seeing that attire does not interfere with the health and well-being of any individual at Cheley nor contribute to a hostile or intimidating atmosphere for anyone.
Labeling Clothing
All clothing and possessions, including gear, footwear, and toiletries, must be labeled with your camper's first and last name. Prior to your camper's arrival at camp, you will also receive yellow baggage tags by mail, which you must use to label your baggage.
Labeling clothes and personal items with initials or just first names is not sufficient as many campers share initials and have the same first name. Please remember that campers will misplace clothing and equipment. Labeling is vital to the success of returning items during laundry and when they are lost. You'd also be surprised how many campers bring identical items.
Laundry
Laundry is done once a week during Summer Camp (three times during each term) and not at all during Quarter B-4. The quantities of clothing listed on our Packing List are sufficient to last a week. Please only send labeled washable clothing that can be done in large commercial washers and dryers. Remember, campers misplace clothing and equipment. Be sure that everything is labeled (either sewn, iron-on, Sharpie®, stamp, or sticker) with your camper's full name. Since stickers often fall off in our laundry, we prefer Sharpie® or sewn labels.
Campers who want to take care of their delicate clothes may consider bringing mesh laundry bags. Our large commercial washers and dryers can be harsh on delicate fabrics, causing damage, pilling or snagging. By placing delicates inside a mesh laundry bag, campers can protect them from being caught on other items or rubbing against rough surfaces. The mesh material also allows the water and detergent to penetrate the fabric and clean it properly. Using mesh laundry bags is a simple and effective way to ensure that delicate clothing items remain in good condition while at camp.
We use generic detergent to wash campers' laundry; however, we understand that some campers may have skin sensitivities or allergies to certain laundry detergents. To ensure that all campers are comfortable and safe, we encourage those with specific laundry detergent requirements to bring their own preferred detergent to camp. We also ask that these campers contact us in advance, so we can work together to accommodate their needs and ensure their laundry is washed separately with the appropriate detergent.
Medication Guide
All medications sent to camp must be in original packaging with a prescription label for your camper. This includes over-the-counter medications that are taken daily and other non-prescribed medication – homeopathic or supplemental – such as dietary and herbal supplements (including, melatonin and lactase), essential oils, etc.
How to pack medication: Place all pill bottles and boxes into a ziplock bag. Label the ziplock bag with your camper's full name in permanent marker. Double check that all medication in the bag is on the Healthcare Provider Form and on Health History Form.
What we need to see on the prescription label:
Camper's OWN name (not parent or sibling)
Name of the medication
Dosage
Time for administering
Name of medical provider and pharmacy
Current date
Expiration date (not expired medication)
Quantity (enough for the summer)
Electronic Devices
We believe that campers have a richer, more impactful experience when they can disconnect from technology and learn to connect on a deeper level. As such, campers are not permitted to bring electronics to camp nor use them during their time at camp. This includes:
iPods and other music/mp3 players
iPads, Surfaces, and other tablets
Kindles and other e-readers
Computers and laptops
Gaming devices (such as Nintendo Switches)
Smartwatches and fitness trackers with cellular or wi-fi capability (such as an Apple Watch, FitBit Ionic or Bit Versa)
If your camper brings an electronic to camp, we will collect it when they arrive and hand it back when they leave — as we do with cell phones that are brought to camp by campers traveling by plane (see "Turning in…" below).
If your camper's phone is their primary camera, we ask that you send them with a different camera for use during camp. While we encourage campers to bring disposable cameras, we do allow them to have digital cameras and GoPros. As such, campers are responsible for their safety and whereabouts. There are limited outlets for charging.
Watches are not needed at camp, but are permitted in all Summer Camp units. If your camper's watch has cellular or wi-fi capability, we will collect it when they arrive and hand it back when they leave.
Fitness trackers without cellular or wi-fi capability are permitted at the Camp Director's discretion; however, like other electronics, they reward screen time and can cause anxiety in youth. If your camper wants to track their activity levels while at camp, then it may be a great tool to have, in which case please contact us. There are limited outlets for charging.
We ask for your support and cooperation in order to maximize the Cheley Experience for your camper and the entire Cheley community. 
Turning in Valuables
We would love your help in sending your child with as few valuables as possible. Upon arrival, every camper turns in their valuables for safekeeping during the term. This includes their cell phone, headphones, wallet, and any credit cards or cash they may have flown with. On the first day of camp, campers should also turn in other electronic devices and surrender any prohibited items. They will be securely stored in the office during camp and returned at the close of camp for travel home.
If your camper is flying to camp, please limit the electronics they are bringing with them. Have them bring books, games, or something other than an iPad to use on the plane! We also ask that they

not

bring large over-ear headphones (e.g., AirPods Max, Bose 700, Sony WH-1000XM4, etc.) as it is easier for us to store smaller headphones. Campers should not travel with more than $30 to $40.
If you are dropping your camper off at camp, they should not turn in any valuables.
Prohibited Items to be Left at Home
Please partner with us to make sure that items deemed as inappropriate for their time at camp are left at home. These items include:
Vapes, Juuls, eCigs, and cigarettes
Recreational drugs and narcotics
Alcohol
Tattoo/piercing kits
Firearms and other weapons
Knives (hunting, throwing, and those longer than the width of their palm)
Fireworks
Pornography
Knives are permitted at the Unit Director's discretion in all Summer Camp units, except Lower Ski Hi/Lower Chipeta, and are not permitted during Quarter B-4.
There will be a consequence for any camper in possession of any of the above items that may include their immediate dismissal from camp.
Lost and Found
At Cheley, we understand that adventures can sometimes lead to misplaced belongings. Our goal is to make sure that every camper leaves with cherished memories and all their belongings intact. Sometimes we find articles of clothing or other possessions looking for their owners. Unless items are clearly labeled with a camper's name, we will not seek out their owners to get them returned. You are responsible for all items you bring/send to camp!
Here's what happens with Lost and Found after camp:
On Departure Day, our unit directors bring any lost and found items from their unit to our office. Labeled items will be packaged and mailed back to their owners. We will charge you for the shipping fee based on the size and weight of the package.
Except upon request, we do not mail non-hiking socks, towels/bathrobes, water bottles, or toiletries. Any excessively gross items, single socks, or undergarments will be discarded.
We'll store non-labeled lost and found items in our office for a maximum of 30 days.
If we do not receive a request for the item within 30 days, it will be discarded, used by future campers and staff, or donated.
If you've left something at camp, here's how to get it back:
Contact our office within 30 days of Departure Day.
Give a description (including, size, color, brand, etc.) of the lost item(s), your name, and your shipping address.
If we find your lost item(s), we'll safely package them and get it sent out to you.