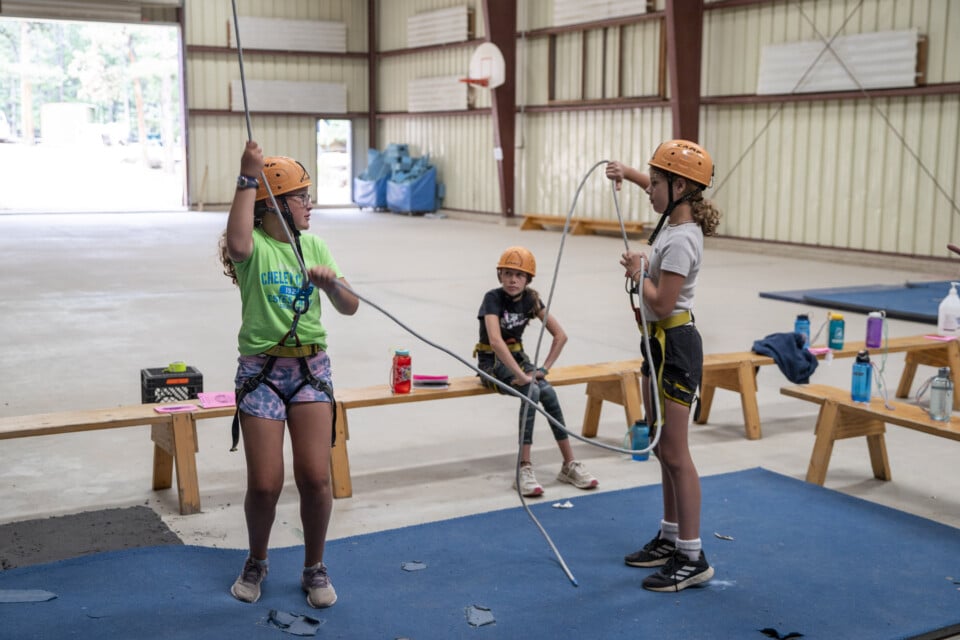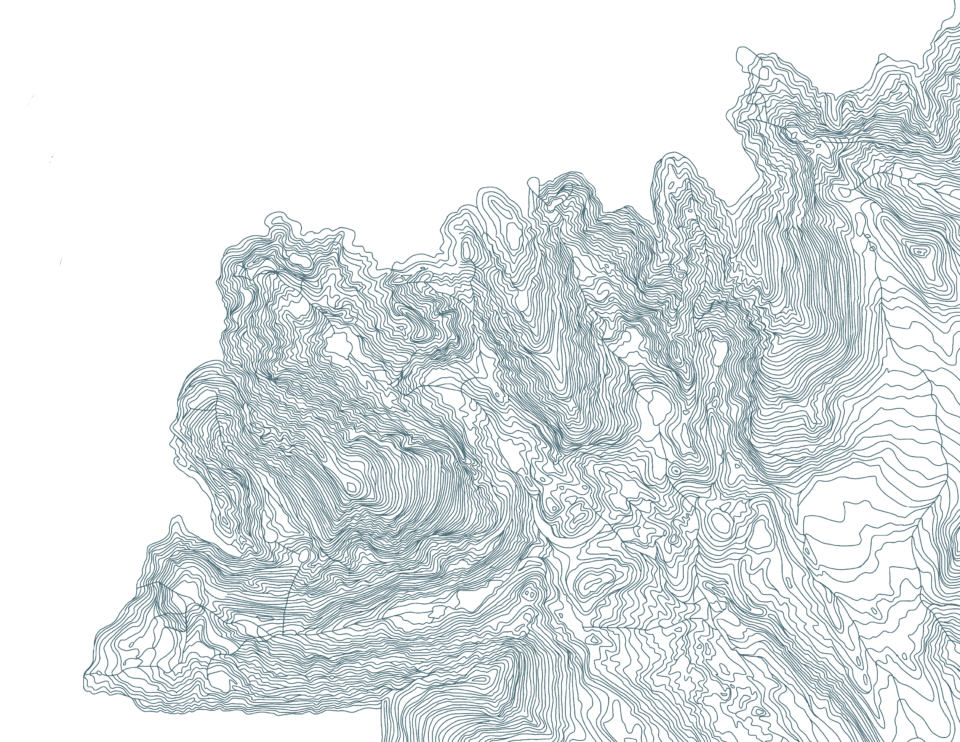 Community Agreements
An essential part of creating a supportive, empowering, and affirming environment is the successful creation of a respectful community.
At Cheley Colorado Camps, we hold a high standard for our campers to create a thriving community. Campers must abide by our rules, regulations, and the Code of Living.
Therefore, we reserve the right to dismiss any camper without refund or reduced tuition if staff believe, in their sole discretion, the camper presents a safety concern or medical risk, is disruptive, or otherwise conducts themself in a manner detrimental to other campers or the camp community.
While we want camp to be the right fit for every young person, we recognize that we cannot cater the Cheley Experience to every possible need. Please read the following so you better understand the socio-emotional, self-care, and physical skills required to help make camp a positive experience for your camper.
If you have any questions about your camper's compatibility with our program, please don't hesitate to get in touch with us.
Skills Required to be Successful at Camp
Campers should have the ability to do each of the following.
Behavioral
Camper Specific
Follow verbal instructions and rules

 

Communicate conversationally in English 

 

Manage self-care in an age-appropriate manner

 

Practice personal health routines, including showering, brushing teeth, going to the bathroom, etc.

 

Manage their own dietary needs, including eating enough daily to accommodate our rigorous activities

 

Manage the sleep-away aspects of camp in an age-appropriate manner 

 

Live in a rustic outdoor setting with no personal electronic devices 

 

Communicate how they are feeling using differing emotions, such as happy, sad, scared, nervous, frustrated, etc. 

 

Self-calm following an event that causes frustration, sadness, anger, etc.

 

Keep themself safe from self-harm 

 

Advocate for personal needs by talking to a staff member

 

Complete duration of camp session without in-person visits or outside phone calls

 
Community Specific
Independently function in a community without consistent one-on-one support, personal care assistants, or a paraeducator.

 

Participate in a group living situation

 

Sleep in a room with 10-20 other people without sleep aids that impact the rest of the cabin/wagon

 

Remain in areas of supervision as defined by staff

 

Resolve conflicts without resorting to physical contact or verbal abuse

 

Live successfully in an active social community that includes constant interaction with other children

 

Remain in their assigned living units after lights out

 

Understand the importance of safety and respect in our community 

 

And will not possess or use alcoholic beverages, tobacco, E-cigarettes, vapes, Juuls, narcotics, recreational drugs or firearms/weapons

 
Activity
Participate daily in outdoor activities, including walking up and downhill on uneven ground and varied terrain; remain outside for extended periods at a time; learn to stay warm, dry, and safe from exposure to the sun and mountain weather; manage levels of physical stress and challenge

 

Move independently from activity to activity

 

Follow safety instructions given verbally by staff

 

Sleep overnight in a tent at a backcountry campsite (

optional activity)

Go to the bathroom in the outdoors 

 

Quarter B-4 Campers: Hike up to 3 miles carrying a light daypack with water bottles, layers, and other essentials, weighing at least 10 pounds

Summer Camp Campers: Hike for a minimum of 3 miles with a backpacking pack containing personal and group gear, weighing at least 25 pounds (

optional activity)
Medical Management
Communicate medical care needs with staff

 

Provide accurate information to staff during check-ins and assessments

 

Independently navigate food allergies and dietary restrictions

 

Live at high altitude (8,600') in a dry climate (low humidity)

 

Manage environmental allergies, including grass, pollen, and animal dander (those with severe horse allergies may not be suitable for camp)

 

Self-carry and/or administer emergency albuterol inhaler, epi-pen, or other emergency medicine (

if applicable)

Manage any chronic medical conditions independently and be incident free (no hospitalizations) for a minimum of one year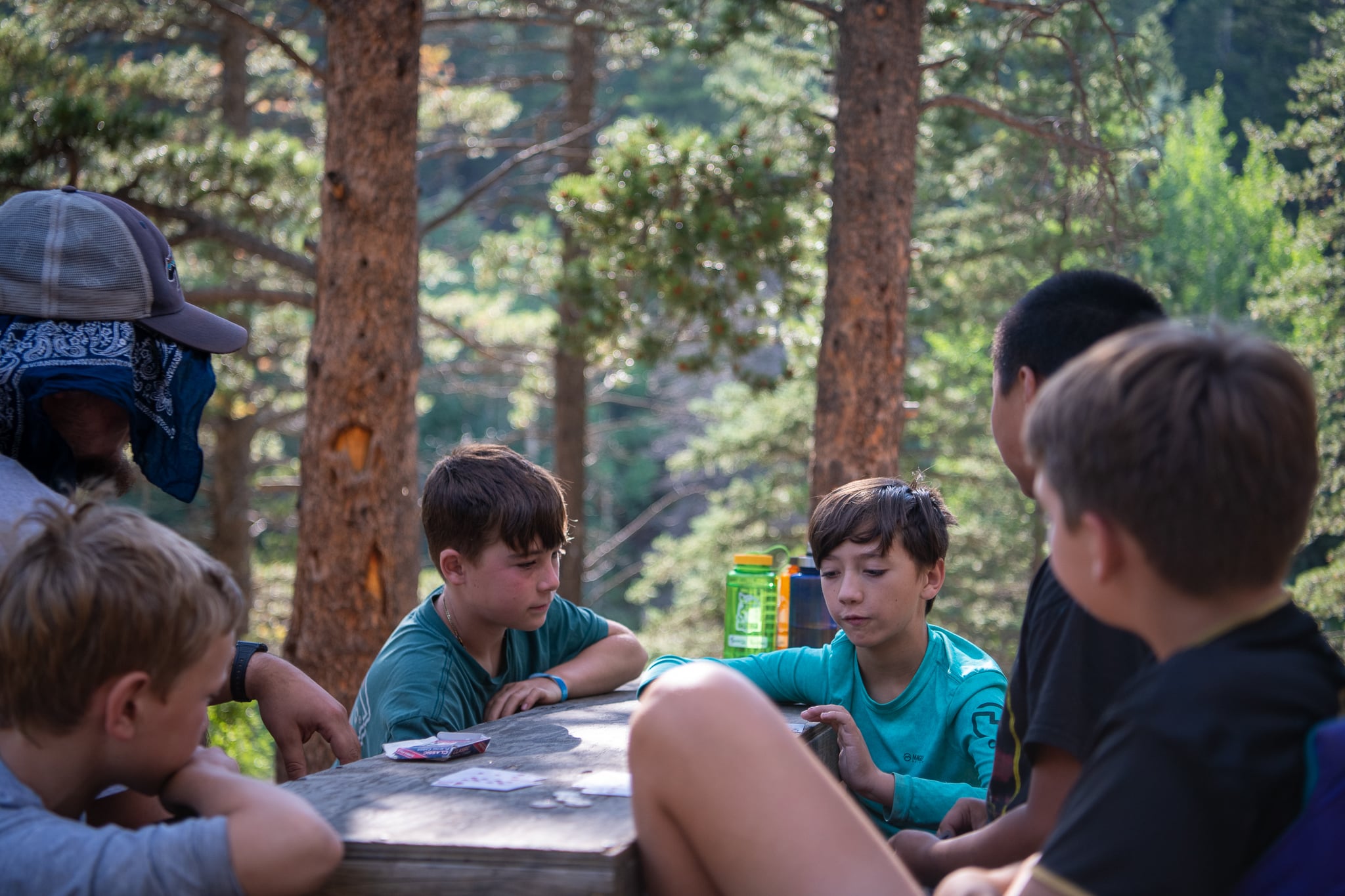 Essential Eligibility Criteria
Cheley Colorado Camps LLC ("Cheley") has developed these Essential Eligibility Criteria ("EEC") to educate all campers and their families on the essential criteria necessary to participate in a Cheley camp program. Please read carefully!
These objective, non-discriminatory EEC are intended to (i) help those who are considering attending a Cheley program understand the requirements for camp participation, (ii) provide the foundation for constructive dialogue between Cheley and prospective camper families if a family has concerns about a potential camper's ability to meet these criteria; and (iii) inform enrolled campers and their families as to what will be expected of them during camp. These EEC are integrally tied to safety and risk management considerations and are consistent with Cheley's mission. By enrolling in a Cheley program, each adult camper and at least one parent of each minor camper acknowledges that they have read and that the camper can meet, these EEC.
*Note: The terms "backcountry" and "wilderness" encompass terrain that includes locations outside of "definitive care" – typically an hour or more from traditional medical and emergency response.
Questions? If you have any questions or concerns about the applicant/camper's ability to meet any of the criteria stated below, please contact our office: Enrollment Manager Peggy Haynes – 970-586-4244 or Peggy@cheley.com
Essential Eligibility Criteria
All campers must:
Come to camp with an open mind and positive attitude.
Be motivated to try new things and actively participate in camp activities, even if the activity is not their first choice of program.
Be willing and able to obey authority figures (such as counselors, guides, or other staff).
Be able to participate in stressful and emotionally intense experiential and/or outdoor or backcountry experiences, including changes in diet, group living, lack of access to technology, and a daily routine that is much different from routines at home.
Be able to understand and follow rules, instructions, and guidelines, individually, or as part of a group, in an indoor or outdoor (including backcountry) setting, frequently independent of direct supervision.
Communicate effectively with, and respond to others in any setting, including in regard to hazards/risks, personal injury, or need for assistance, including in situations where darkness, high winds, or other factors may impede communication.
Participate in activities that require participants to pay attention and concentrate (including careful attention to detail) for extended periods whether in an indoor or outdoor (including backcountry) setting.
Perform age-appropriate manual work including lifting, digging, carrying weight, and making repetitive movements. Examples are saddling a horse, preparing a campsite, or carrying a full backpack.
Perform necessary self-care independently or with minimal assistance in any setting. Self-care includes maintaining reasonable personal hygiene, handling toileting needs, maintaining adequate hydration, meeting nutrition needs, and dressing appropriately for weather conditions.
Withstand repetitive and sustained use of one's body and limbs at age-appropriate levels. For example, our oldest units have the option to select hikes up to 22 miles long.
For each activity, be able to wear all recommended/required gear (e.g., a harness and helmet for climbing, life jacket and helmet for rafting).
Competently and independently live, travel in, and navigate a variety of uneven and challenging surfaces. This includes, but is not limited to: traveling on and off-trail (if applicable, trekking, climbing, horseback riding, etc.) up and down in steep, rugged, and difficult terrain in mountainous, wilderness, and other outdoor settings.
Carry weight, whether it be personal or group belongings, gear, or provisions, independently or with the assistance of a companion.
Remain alert and focused for several hours at a time while traveling in frontcountry or backcountry settings.
Live and travel for multiple days in all types of weather, in indoor and outdoor (including backcountry) settings in temperatures ranging from 20 degrees to 100 degrees F (our normal summer daily temperatures range from 50 degrees to 85 degrees F), and at elevations exceeding 14,000 ft. above sea level with a variety of stimuli, including extreme temperature changes, intense sunlight, wind, rain, snow, insects, smoke, and wild animals.
Live and travel in remote settings several hours from advanced medical care with potential delays or difficulties in communication, transportation, and evacuation.
Get oneself in and out of a vehicle independently or with minimal assistance.
Learn skills and engage in tasks to support yourself and the group (individually or with minimal assistance). This includes, but is not limited to: cooking in an outdoor setting or in a kitchen for self and others, setting up and taking down a camp, washing dishes, caring for group gear and camp site or cabin care, including clean-up.
Support a physically, mentally, emotionally, and socially healthy environment for all, in alignment with Cheley's mission and the unit's Code of Living.
Participate fully and cooperatively in a close-knit community, and as a member of the team.
Respond appropriately in the face of unexpected challenges such as inclement weather, unfamiliar surroundings, stamina challenges, and homesickness.
Cheley does not discriminate in its admissions policies on the basis of race, color, gender, sexual orientation, gender identity, religion, national or ethnic origin, age, or disability. Cheley staff are not qualified to work with campers who have severe mental, physical, or emotional difficulties that prevent them from meeting our EEC, with or without reasonable accommodations. Cheley strives to provide an inclusive experience that accommodates campers of all abilities; however, Cheley reserves the right to refuse admission to our programs in appropriate cases where an applicant cannot meet our EEC and reasonable accommodations are not available.