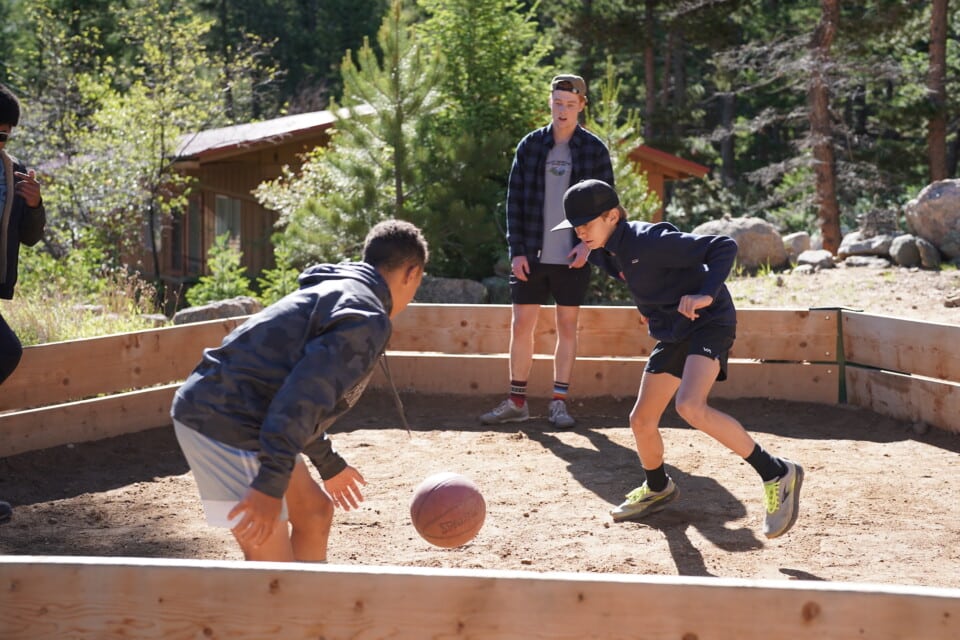 Health Information & Medication Policies
At Cheley, we provide the nurture and care necessary to assist our campers.
Whether it be physical, mental, emotional, or spiritual, camper well-being is one of our priorities. At Cheley, we focus on youth development and providing the nurture and care necessary to assist our campers in their quest for adventure.
A Healthy Summer Starts at Home
As part of the enrollment process, you will be asked to complete various required wellness forms, including our Medical/Health History, Healthcare Provider, and Immunization Forms. These forms give our Health Professional Team access to a camper's health history, allergies and Epi-Pen use, medications, treatments, and more. Depending on your camper, there may be additional paperwork to submit, such as the Immunization Exemption Form, an Action Plan for medical emergencies, or a copy of your camper's IEP or 504. We prefer that you upload these to your CampBrain account; however, you may also email them to us.
we suggest using apps like scannable, the iPhone's notes app, adobe scan, Microsoft lens, google drive scan, etc. to scan these forms into a pdf format.
---
Healthcare Provider Form
The Healthcare Provider Form must be completed and signed by a licensed medical professional and is DUE MAY 1ST. Campers are required to have a physical examination, which must be completed within 12 months of their arrival at camp each and every year. This is required by the American Camp Association.
Colorado Immunization Form
Your camper's immunization record MUST BE TRANSCRIBED onto the Colorado Immunization Form. It must be completed and signed by a licensed medical professional and is DUE MAY 1ST. This is required by CDPHE and Child Care Licensing.
Medication at Camp
All medications sent to camp must be in original packaging with a prescription label for your camper AND be listed on the Healthcare Provider Form. Over-the-counter medications that are taken daily must also be listed on the Healthcare Provider Form.
The other non-prescribed medication that we often see falls into the homeopathic or supplemental category – dietary and herbal supplements (including, melatonin and lactace), essential oils, etc. Our Health Centers are not stocked with these items. We know that you may give your camer these daily, so in order for us to give these to your camper, they too must be listed on the Healthcare Provider Form along with dosage and time taken.
Daily medications are distributed at mealtimes and before lights out unless the prescription requires otherwise. As-needed medications will only be distributed if your camper visits the health center and requests them. Our Health Centers are stocked with common over-the-counter medications for your camper if needed if permission is granted on the Medical/Health History Form. Unless your camper takes typical OTC medications daily, there is no need to send these. If there are medications or supplements your camper can do without while they are at camp, please refrain from sending them.
While campers may carry inhalers and Epi-Pens with them, other medications are not allowed in cabins. If they require these items, please send a spare to be kept in the health center. If campers wear contact lenses, they should bring extra and a pair of glasses.
If you have any questions about your camper's medication needs, please contact us.
Miscellaneous Concerns
Climate and Weather
People love to talk about the weather! At Cheley, it's no different. Most days we're talking about how perfect it is – blue skies and plenty of sun. The sun shines most every day, and while rain varies, typically we have an afternoon rain shower. They don't last long though, but a rain jacket is a must.
At an elevation of 8,200 feet, summer temperatures average high in the 70s with very little humidity and cool evenings, usually 50 to 55ºF. It is best to be prepared for all types of weather and is important to refer to our Packing List when preparing for camp.
Altitude Sickness
Altitude, like elevation, is the distance above sea level. National Geographic describes "high-altitude" as being at least 2,400 meters (8,000 feet) into the atmosphere. And because Cheley Colorado Camps sits at an elevation of 8,200 feet above sea level, it can be described as a high-altitude summer camp. Although it just barely meets the criteria for high altitude, campers who have never experienced it before may be surprised to experience how it affects them—at least initially.
Most campers don't experience any symptoms of altitude sickness at our elevation; however, it's important to know that there's a chance your camper will experience some mild symptoms during their first few hours at camp, during strenuous activity, or if traveling to very high altitude (above 12,00ft) on a hike, backpack, or other activity. The most common symptoms include headaches, fatigue and loss of energy, shortness of breath, loss of appetite, and sleep problems. The best way to acclimate and combat altitude sickness is to drink enough water, eat regularly, and rest.
Head Lice
We check all campers for head lice upon their arrival at camp. Over the years, we have found that most cases of head lice are brought to camp from home; therefore, to prevent the chance of lice being brought to camp, begin checking your camper's head for lice a month before your camper's arrival at camp. If you find and treat any lice, you must inform us. If your camper has head lice, we will contact you.
Dental & Orthodontic Care
We recommend that campers visit their dentist and orthodontist before coming to camp. The orthodontists in Estes Park are not willing to do major repairs. They will do what they can to make sure your camper is comfortable until they return home and see their own orthodontist.
Vaccine Requirements
Colorado law (Board of Health rule 6 CCR 1009-2) requires all students attending Colorado schools and licensed child cares to be vaccinated against certain diseases, unless an exemption is filed. The minimum number and spacing of doses is set forth in the Advisory Committee on Immunization Practices (ACIP) Child and Adolescent Immunization Schedules. Meeting the initial vaccine requirements does not excuse a student from meeting additional requirements. In addition to the vaccines required for school entry, there are several vaccines recommended by the ACIP that provide protection against other diseases. These include Meningococcal, Hepatitis A, Rotavirus, Human papillomavirus and Influenza.
Below are the vaccines required for students attending Colorado licensed child cares and schools.
Vaccines required to enter child care:
Hepatitis B.
Diphtheria, tetanus, pertussis (DTap).
Haemophilus influenza type b (Hib).
Inactivated poliovirus (IPV).
Pneumococcal conjugate (PCV13) or polysaccharide (PPSV23).
Measles, mumps, rubella (MMR).
Varicella (chicken pox).
Vaccines required to enter school (K-12):
Hepatitis B.
Diphtheria, tetanus, pertussis (DTap).*
Inactivated poliovirus (IPV).*
Measles, mumps, rubella (MMR).*
Varicella (chicken pox). *
Tetanus, diphtheria, pertussis (Tdap).**
*Students 4 through 6 years of age are required to have their final doses of DTaP, IPV, MMR and Varicella prior to kindergarten entry.
**Students are required to have Tdap prior to entry into 6th grade. One dose of Tdap is required for 6th through 12th grades.