Greetings to you all from the Ranch at the End of the Trail! As the first signs of fall are beginning to show, we miss the laughter and singing and general happiness and fun we had this summer, it was another amazing summer at GTE. While we had our share of illnesses, the spirit of GTE lived in the hearts of every girl there as they took care of one another through good times and bad. When girls were restricted because of illness, their wagon mates would read to them, play games, share details about their days and campfires, and help the ones who were sick feel like they were not missing out too much!
Just as we did last summer, we took time at the beginning of the term to reflect on the past year and prepare ourselves to move forward for the best summer ever! We set goals for ourselves, we laughed, got acquainted with one another, and even with ourselves! It was a terrific way to start the term.
Whether they were climbing peaks, riding horses, sleeping under the stars, or just hanging out in camp with friends there was such a sense of joy knowing that we were all at camp! While our programs may have varied a bit one of the overall goals was to instill self-confidence, and resiliency and to challenge our girls to step out of their comfort zones and challenge themselves. As you continue to read, you will see, that everyone did just that. Whether it was a sketch hike, hike to the general store, or a backpack, horse pack, outcamp, or mountain bike trip, everyone had the opportunity to spend time in the beauty of nature and enjoy that sense of awe that surrounded them daily.
Many of our campers chose to challenge themselves on the trail this year. Led by our hiking staff of Annie Price, Taylor Phillips, and HBO Marcy Senti, the girls had the opportunity to summit many beautiful peaks including Half Mountain, Meeker, and Spearhead. They also visited a variety of beautiful lakes such as Ypsilon, Blue, and Finch. As the girls challenged themselves several were able to earn their Jr. Hiking Patch: Lila Creasy, Avery Barclay, Bridger Kripke, and Ayla Levy. Earning their Sr. Hiking Patches were Sophia Shaffer, Cecilia Loughlin, and Natiya Barrett. Samantha Noesen earned her Pinecone patch.
For those who wanted to spend a little more time out on the trail and under the stars, they spent several nights out with our backpacking staff of Morgan Amonett, Lilly Brills, and HBO Marcy Senti. Trips were anywhere from a one-night overnight to a 5-day trip each term, into the wilderness. They went to destinations such as Finch Lake, Diamond Lake, Baker Gulch to Bowen Gulch, Parika Lake, and Battle Mountain, summiting many peaks along the way. Alexandria Bashara, Summer Mansfield, Addison Cohen, and Samantha Schoolman all achieved their Jr. Backpacking Patch, and Natiya Barrett received her Sr. Backpacking Patch.
We had a lot of girls who decided this would be the summer to try mountain biking! Led by our wonderful staff of Charlotte O'Toole and Rosie Dunlap, they challenged themselves mentally and physically as they took to the trails around Estes, for both day trips and overnight trips. They learned a lot as they rode to destinations such as Pierson Park, Stanley Park, Hermit Park, and even the Devil's Backbone! Receiving their Mountain Biking patches this summer were: Brinley Betts, Isabella Dorr, Sophia Shaffer, Loyland Furey, Fiona Macdonald, and Shelby Scott.
Outcamping was a big hit, led by Amy Jayne Morrisette, and Laura Zelenka, girls went to destinations such as Meadow Outpost, Rockstock, TE Crossing, and the Gypsy Grounds. Outcamping is a wonderful time for the girls to just step back, relax, read, tell stories around the campfire, and eat wonderful food! Receiving the Outcamping Basics patch this summer were Loyland Furey and Kelsey Ketchum and receiving their Jr Outcamping patch this summer were Nola Gross and Mayla Montgomery.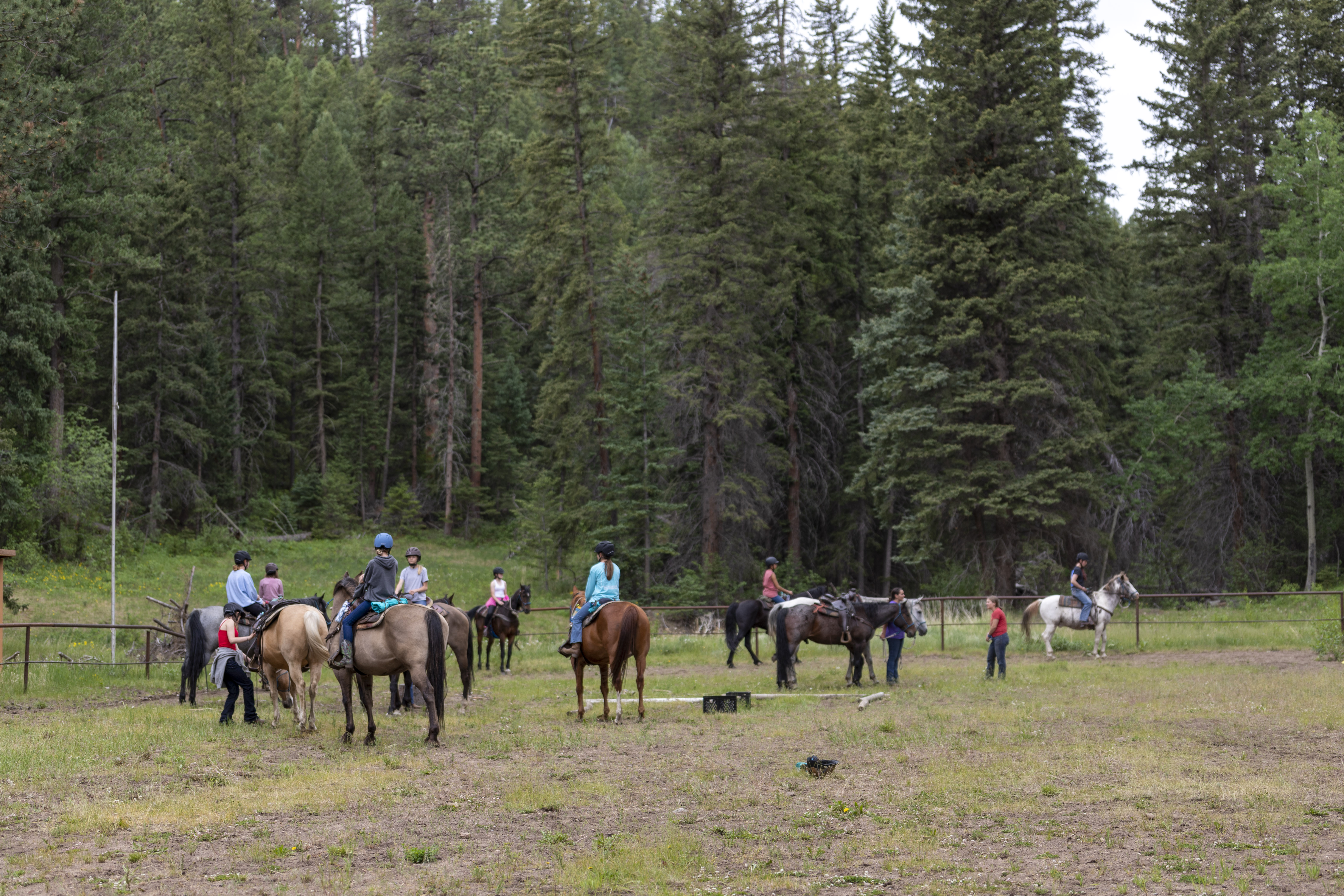 There was always some kind of adventure going on in our horseback riding program, whether it was mucking stalls, tacking horses for the day's adventure, or packing for an overnight horse pack, there was always noise to be heard from the barns. This year's riding program was led by wranglers Estie Seligman, Victoria Bostrom, Rachel Castro, and Frances Street! The girls took day trips to places like Bulwark Ridge, Piper's Meadow, and Crosier Mountain, as well as overnight trips to True Gulch, Donner Pass, and the 3-day pack trip to Deserted Village. It was always fun to hear of their adventures when they came back from the barns. The following campers challenged themselves a bit more than just riding by learning emergency procedures, parts of the horse and tack, and various other things to complete their Jr Riding patch: Audrey Olson, Emma Schumacher, and Helen Rinehart. Earning their Sr. Riding patch this summer were Campbell Ardrey, Kira Bardin, Torlis Friedman TeBockhorst, and Karuna Kotak.
Many campers were not interested in being tied down to any one program, so they tried a little bit of everything. They took full advantage of all camp had to offer, and spent at least 15 days out of camp, which is over half a term! The following girls received their On the Trail patch for venturing out and really experiencing camp; Campbell Ardrey, Kira Bardin, Eva Cotton, Layda Estrada, Torlis Friedman TeBockhorst, Karuna Kotak, Ayla Levy, Emma Schumacher, Danielle Wallack, Olivia Haberman, Caroline Lauriat, Kendall Newsome, Emerson Thut, and Willow Whelan.
Meanwhile back at the ranch, many campers spent time under the watchful eyes of Maggie Todd and Taylor Lewis working on their skills in archery and riflery and earning all kinds of recognitions from white arrows in archery to Standing Specialist in riflery. We also had the creative side of the girls come out under the watchful eye of Vicki Hayward, as they ventured into our craft shop, and wood shop with some wonderfully creative pieces of art!
In the end, what truly differentiates Cheley is our unwavering belief in the Code of Living. It is created each term by each unit, including the values to which we aspire and to which we hold ourselves accountable. This summer Avery Barclay, Ayla Levy, Cecilia Loughlin, Ruth Flacke, Molly Mounce, and Nyah Watson received their Driver. Rand Neren, Kimmy Eggen, Torlis Friedman TeBockhorst, Lucy Champa, Molly Kolachov, Monika Shaffer, and Fiona Macdonald received their Top Hand. Way to live out our code!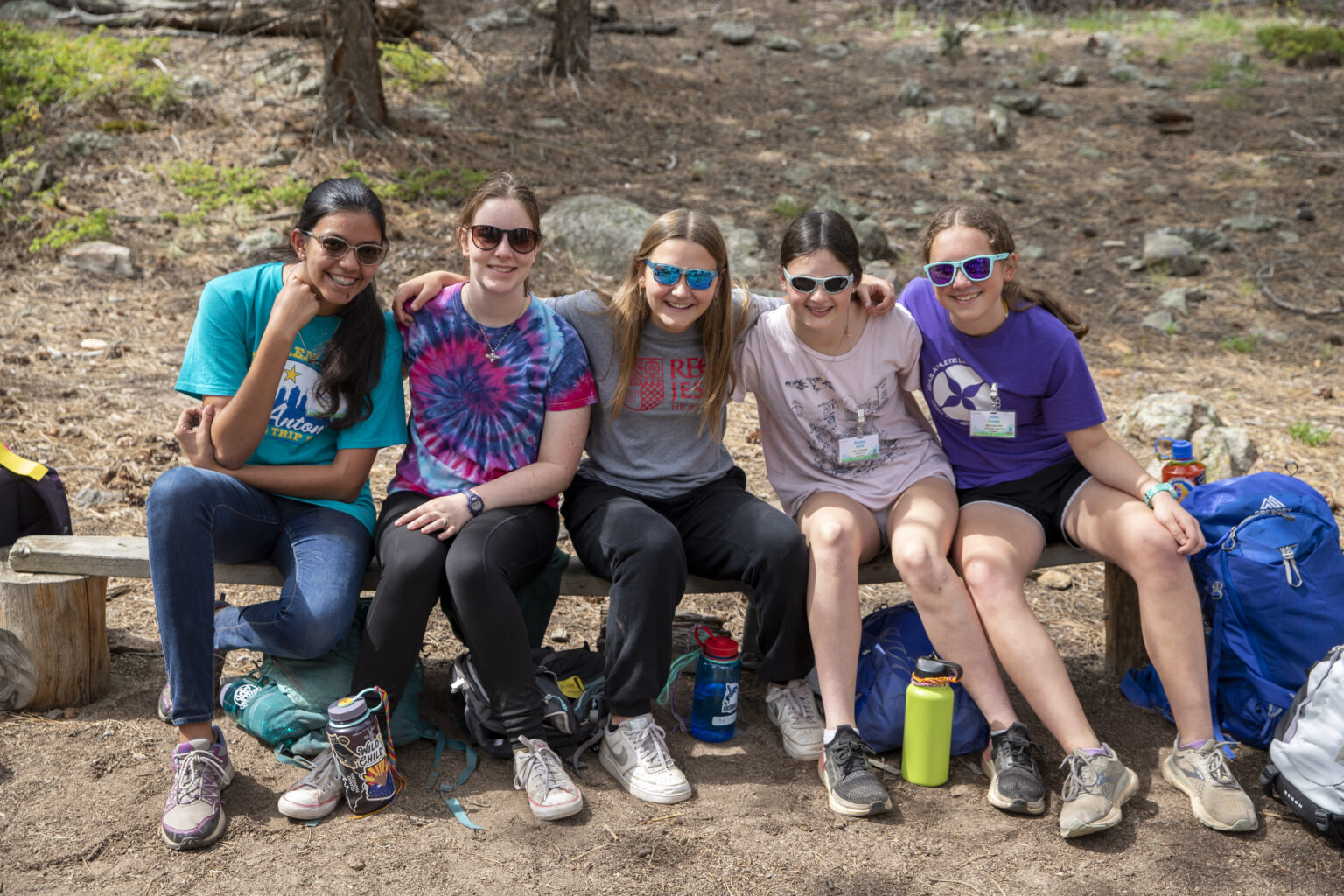 We had a wonderful group of CILTs this summer, who spent their final summer as campers, honing their leadership skills and mentoring our younger campers to continue the Cheley traditions. Many thanks to Rand Neren, Tatum Thomason, Raina Jaeggli, Shayna Zavell, Katie Walsh, Isabelle Laton, and Kaitlyn Baker!
Beyond the activities, the laughter, and the singing, we could not have done camp without our amazing nurse, Janelle "Jelly" Heilmann! She provided extra TLC when we needed it and helped to keep us all healthy.
Last but certainly not least would be our amazing cook, Laurie Emmer, and her wonderful assistant Ella Rose Strasser. They fed us incredible, nourishing food to keep our bodies and our spirits strong for the adventures of each day!
As we take our final walk through the wagon yard, know that our hearts are with you as you go forward this year and that more than anything…
We Wish You Enough,
Abby Page, Director
Amanda McKnight, Asst. Director
Gail Albers, Asst. Director