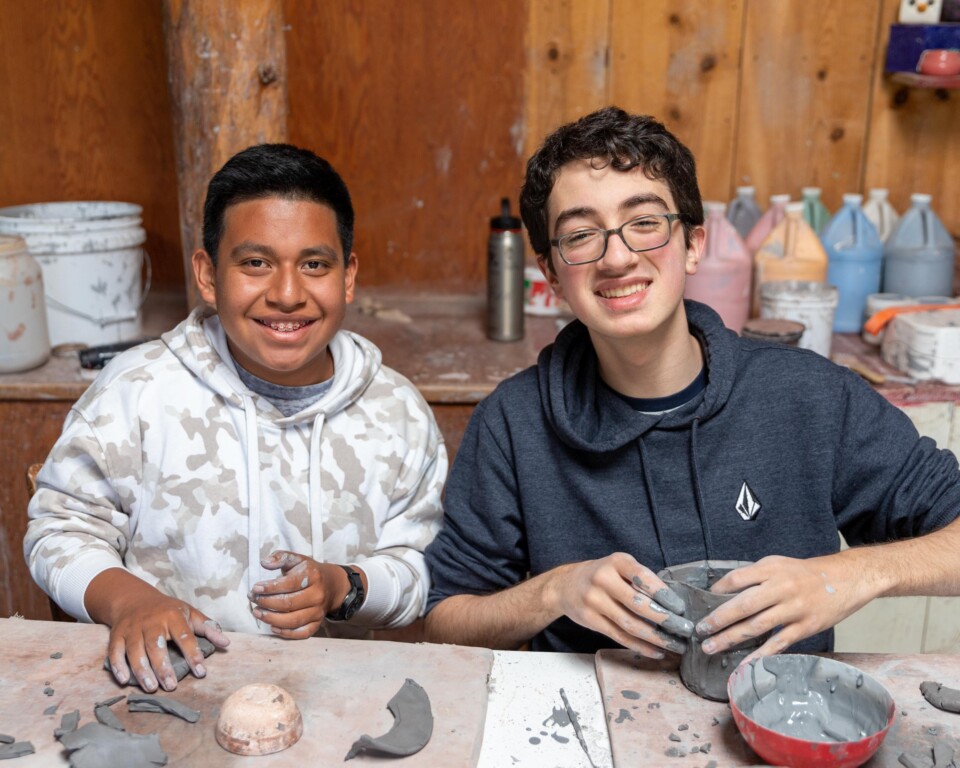 Camp Includes Me!
Learn more about our commitment to diversity, equity and our inclusion philosophies that represent our core values at Cheley.
At Cheley Colorado Camps, we believe in creating spaces of true belonging, where campers and staff can bring their authentic selves to feel accepted and cared for. There is no space for hate or violence in anything that we do.
Our Commitment to Diversity, Equity, and Inclusion
Inclusion at Cheley Colorado Camps
At Cheley Colorado Camps, we live by our core values and beliefs, which embrace harmony, honesty, integrity, unselfish love, and concern for human dignity. We are passionate about creating an inclusive camp community that celebrates, supports, and thrives on diversity. With infinite elements of one's identity, we welcome, affirm, and support youth no matter their background or how they choose to identify themselves.
As professionals in youth development, it is our responsibility to help each camper in bringing their authentic selves to camp and in navigating a diverse world both at camp and beyond. We believe that inclusion is a value best learned in childhood and it is our responsibility to provide a supportive environment in which that learning can occur.
Inclusion Statement
Cheley Colorado Camps accept children regardless of race, color, sex, gender identity and expression, sexual orientation, disability (assuming the disability permits safe participation in the Cheley Experience), faith or religion, cultural observance, national or ethnic origin, family status, appearance, body type/size, educational background, and any other category people use to define themselves or others. Please read our Essential Eligibility Criteria carefully.
Gender Inclusivity
Youth of all gender identities are welcome at camp! At Cheley Colorado Camps, we serve transgender, genderqueer, gender fluid, nonbinary, agender, and gender nonconforming campers. While camp has historically been and remains divided by sex—and units are single-gender (male- or female-identified)—we know that our community of campers and staff includes gender identities that do not fall into these binaries and that a camper's gender identity may not match their sex assigned at birth. We strive to make our campers and staff feel comfortable and validated, regardless of their gender.
Campers and staff have the opportunity to share their pronouns in their introductions and during icebreakers. Pronouns are how we refer to each other when we don't use a name – examples include: she/her, they/them, he/him, etc.
In line with our camp values, we ask that everyone at Cheley respects each other's gender identity, including their name and pronouns. Our staff are also trained to handle any situation of bias and bullying; harassment, including hate speech, intentional misgendering, and deadnaming, is not tolerated.
LGBTQ+ Youth
At Cheley Colorado Camps, we provide a space for LGBTQ+ youth to be themselves. As an LGBTQ+ friendly summer camp, not only are youth who identify as LGBTQ+ welcome and celebrated but children from LGBTQ+ families are as well! We strive to support children regardless of their sexual orientation or gender expression.
While we do not allow or encourage romantic relationships, we do encourage everyone to be able to talk openly about themselves, their personal identity, and their family. Our staff are trained in how to have age-appropriate conversations regarding sexuality and gender expression in a way that makes everyone feel comfortable and included without the possibility of judgments. Incidents of sexist, homophobic, or transphobic conduct and harassment are not tolerated. This includes the use of slurs, other LGBTQ+ put-downs, and "outing" someone.
Neurodiverse Youth and Youth with Disabilities
Cheley Colorado Camps welcomes youth with disabilities and will make reasonable accommodations for campers with various diagnoses and capabilities. We hope to provide support for and remove any barriers that may exist for youth with disabilities (assuming the disability permits safe participation in Cheley activities) or a chronic health condition. Nevertheless, we want camp to be the right fit for every young person and recognize that we cannot cater the Cheley Experience to every possible need. We require that campers have specific socio-emotional, self-care, and physical skills to help make camp a positive experience.
Some of the medical conditions we have served include (but are not limited to) ADD/ADHD, Anxiety, Asthma, Depression, Diabetes, and Epilepsy. Our staff cannot offer all-day 1:1 support to campers. We are also unable to accommodate campers who require personal care assistants, paraeducators, or CPAP machines.
To best support your camper, we will need a complete and honest understanding of who your camper is and the level of support they require. To provide your camper with any necessary accommodations, we ask that you be as specific as possible with the information you provide us, including a copy of your camper's IEP or 504 plans and/or their action plan for a medical emergency (if applicable). If you have a specific question regarding your camper, please contact us prior to enrollment to make sure Cheley would be a good fit.
Financial Access
It is our hope that every child has the opportunity to attend camp regardless of their family's financial situation. If you are in need of financial assistance, please visit A Thousand Summers (formerly the John Austin Cheley Foundation), which was established in 1989 to honor the memory of John Austin (Jack) Cheley and help fulfill his dream of making the summer camp experience available to youth who could not otherwise afford it. The process is completely confidential: counselors nor support staff know the financial circumstances of our camp families. If your family doesn't qualify for financial aid through the JACF, we also offer payment plans.
Additional Dimensions of Identity
There are many other dimensions of identity – beyond those mentioned above – that are important parts of who an individual is and that, to varying degrees, impact their experience while at camp: physical health, mental health, social-emotional development, dietary restrictions and allergies, language use and native tongue, personal interests and habits, pre-existing social relationships, history at camp, and so much more. Every camper and staff member at Cheley is a culmination of all the dimensions of identity already mentioned and many that have not been.
Land Acknowledgement
At Cheley Colorado Camps, we have a deep and abiding respect and care for the natural world. The joy of being outside and in nature is one of the highest joys that humanity can possess; therefore, it is within our responsibility to understand the long-standing history of these lands and waters and to seek to understand our place within that history.
Equity Statement
The Cheley Experience thrives on creating an environment where everyone is comfortable bringing their authentic selves to camp. While we are fortunate to have a rich history of being a welcoming community centered around the Code of Living, we are acutely aware that many families have not had access to camp nor felt included in the camp experience. Therefore, our priority is to increase access to Cheley Colorado Camps for groups historically underrepresented at camp and to ensure that all young people feel the same sense of belonging. We recognize that our efforts will be ongoing and evolving as we work toward an equitable future.