The sound of unclipping and reclipping safety carabiners echoed across the Cathedral rock walls as Haiyaha climbers made their way up the terrain of the Via Ferrata. The hike/climb is one of our most unique programs and allows campers to hike, traverse, and climb all in one day. Italian for "iron road," the climbing technique refers to a system of cables that connect the climber to the rock face so they can hike and climb while remaining secure. 
In the morning, we hiked halfway up the peak with our helmets and harnesses in tow. Once we reached the Via Ferrata, our climbing guides briefed us on safety protocols and taught us how to clip into the cables that line the rockface. We split into groups of four, clipped our carabiners in, and began the ascent. The terrain was varied, ranging from flat stretches to steep, ladder-stacked sections: nerve-racking for the campers (and myself) with a fear of heights. To help, our guides preached 'challenge by choice' affirmations until we reached the Colorado flag at the peak. There, nearly all of Estes Park—including our red roofs—was visible. From afar, campers pointed out their cabins and favorite places to spend time at camp. 
Even though he doesn't always love being high up, camper JP S. had the Via Ferrata on his program bucket list.
"It's my last year at camp and I just wanted to go for it. I committed to climbing it mentally and now it's genuinely one of my favorite days of program I've ever had."

JP S., Haiyaha Camper
After taking in the view, our group headed halfway back down Cathedral and shared lunch. We made jokes about everyone's bulk 'order' — in disbelief about the sheer number of combinations you can make with pepperoni, salsa, jelly, peanut butter, and cheese. Few ordered a 'loaded diaper,' the term for every item mixed together. And in between bites, Thomas, the hiking counselor on program, tried convincing the group that it was "surprisingly good."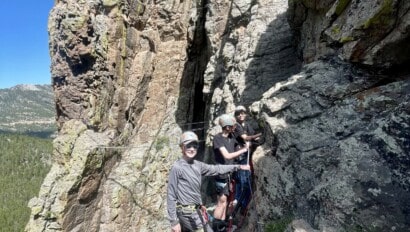 Once we finished celebrating getting out of our comfort zones with sugar cookies (Haiyaha's undisputed 'best cookie' option) we began technically climbing the different routes. Some campers practiced belaying, while others climbed. Some just enjoyed cheering on their friends and appreciating nature from the ground. 
In the afternoon, we hiked down Cathedral and all agreed that our Via Ferrata is special. Plus, according to the campers that had done it before, it doesn't lose its magic upon repetition.